Black Heritage History
Did you know ?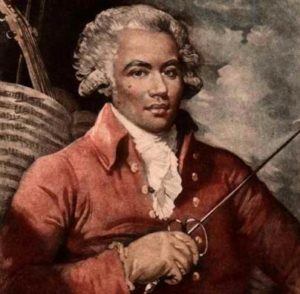 Guadeloupe is not only gorgeous beaches, waterfalls and nightlife and all but also a rich Black History destination where one can learn about our heros, our history and our strong connection with our African heritage, foundation of our tradition.
The Slaves Steps and Prison Cell
This monumental stairway of 54 dressed-stone steps led to the esplanade where slaves were sold directly off the boat. Plaques on the steps display the names of various African ethnicities:  Yoruba (southwestern Nigeria, Togo, Benin), Congolese (from the former kingdom at the mouth of the Congo River), Ibo (southeastern Nigeria), Wolof (Nigeria, Senegal, and Congo), Fula (west Africa), and Bamileke (western Cameroon). At the foot of the stairs stands a bust of Louis Delgrès, who fought to the death against the reinstation of slavery in 1802.
 Slave Steps
Escalier aux Esclaves, Petit-Canal, Grande-Terre
           Free Access
Slaves prison
Escalier aux Esclaves, Petit-Canal, Grande-Terre
           Free Access
Built in the 17th century, the Fort Delgrès was initially made to defend the harbor of Basse-Terre against the English attacks. It was renamed in 1989 as a tribute to Louis Delgrès, one of the Guadeloupe Islands' major figures for the abolition of slavery.
Fort Delgrès
Le Carmel, Basse-Terre, 97100
           Free Access
Monday : Closed
Tuesday to Sunday : 9 am – 4.30 pm
Located in Pointe a Pitre, precisely on the Darboussier site, which used to be a sugar factory, the Memorial ACTe Museum is a cultural center dedicated to the Memory and History of Slavery Trade. It is part of UNESCO's Slave Route Project, a global initiative to promote the rapprochement of peoples through the shared legacy of this tragedy.
Memorial ACTe
Darboussier,rue Raspail, Grande-Terre
           Prices :
Tuesday to Saturday : 9 am – 7 pm
                 Sunday : 10 am – 6 pm
La Grivelière ``Coffee Plantation``
Deep inside the valley, dive into the heart of tradition. From stone to stone, discover building constructed through the ages, lulled by the clear waters of the beautiful rivers of Vieux-Habitants and let you ennivrer by bonifieur coffee , on the field of Habitation La Grivelière "House Coffee". "L'Habitation" will stir up your taste buds with its excellent host table and intoxicating coffee flavors.
La Grivelière
Vallé de la Grande rivière Vieux-Habitant, Basse-Terre
           Prices : From 6.60€ to 24€
Monday to Sunday : 9.30 am – 5 pm
The Bologne distillery is located in Basse-Terre. This old sugar factory of the 17th century was owned by the Bologne family (Chevalier St Georges' father). The distillery was then acquired by Amé-Noël in 1845, former privateer and first black free man owner of a major plantation. But it is in XIX century that the Sargenton-Callard family, then owners of factory, decided to turn the sugar factory into a rum distillery.
Distillerie Rhum Bologne
Rivière des Pères, Basse-Terre
           Free access
 Monday to Satuday : 8 am – 1 pm
 Sunday : Closed