2nd EDITION of the «SAINT-GEORGES» INTERNATIONAL MUSIC FESTIVAL
March 15 – 20, 2019 | GUADELOUPE ISLANDS, FWI
ABOUT THE FESTIVAL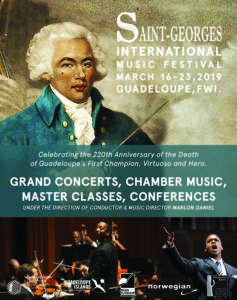 The SAINT-GEORGES International Music Festival is a tribute to Joseph Bologne (1745-1799), better known as Chevalier de Saint-Georges, a Guadeloupean historical figure who was a virtuoso violinist, conductor and composer who influenced the great composers of his time including Franz Joseph Haydn and Wolfgang Amadeus Mozart. A Civil Rights hero and unparalleled fencer during the French Revolution, he was the colonel of the famous "Légion Saint-Georges," the first all black military regiment in Europe and fought for equal rights for all, not just the few. His extraordinary life is a model for excellence and an outstanding example of perseverance and strength in the controversial time when France was torn between Slavery Trade rules and Revolutionary ideals.
The festival will feature spectacular concerts with international artists and a plethora of educational and cultural events, all taking place all across the beautiful Guadeloupe archipelago.
PRESS REVIEWS
ABOUT THE ARTISTIC AND MUSIC DIRECTOR
About Marlon Daniel, Conductor
Hailed as the foremost champion of the music of Saint-Georges in the world, Marlon DANIEL is one of the most dynamic conductors of his generation. He has been described as "a natural and enormous talent" (Chicago Sun-Times) and his artistry has been hailed as "fabulous and exceptional" (Pravda – Moscow). Winner of the 2014 John and Mary Virginia Foncannon Conducting Award, he has performed in some of the most prestigious venues in Europe and the United States that range from Carnegie Hall in New York City to the Rudolfinum in Prague and several international music festivals.
Marlon DANIEL, one of the most dynamic conductors of his generation will be directing the festival and internationally renowned artists such as soprano Janinah BURNETT, rising stars mezzo-soprano J'Nai BRIDGES or bass Solomon HOWARD (who has just received the  Kennedy Center Marian Anderson Vocal Award), the Guadeloupean soprano Leïla Brédent, and musicians Romuald  GRIMBERT-BARRÉ, Sami JUNNONEN, just to name of few of the 40 musicians that will compose the Saint-Georges' International orchestra.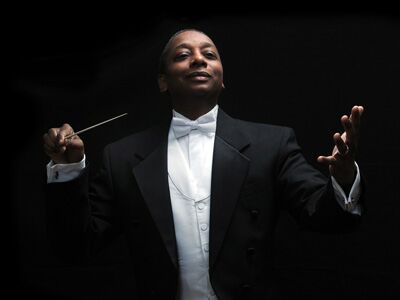 US Preview
Saint-Georges International Music Festival
January 31, 2019 | at SCHOMBURG CENTER
On the occasion of the 220th anniversary of the death of the Chevalier de Saint-Georges, an acclaimed U.S. preview of the festival was performed on Thursday, January 31, 2019 at the celebrated Schomburg Research Center in Black History in Harlem, New York. The preview concert featured 15 musicians from the Saint-Georges International orchestra and for the first time in the U.S. Guadeloupean Soprano Leïla Brédent, under the direction of conductor Marlon Daniel, the festival's Artistic and Music Director.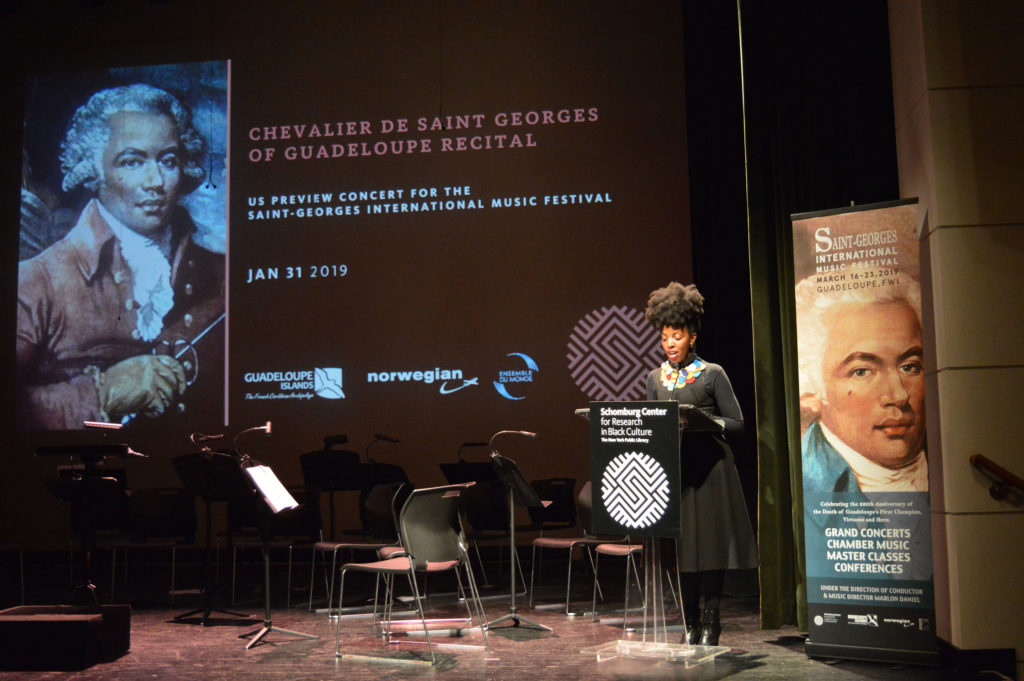 Program of the festival
FRIDAY, March 15, 2019
OFFICIAL SIGNING OF GUADELOUPE INTO THE OECS
Time: 8pm
Location: Memorial ACTe Museum
SAINT-GEORGES FESTIVAL ORCHESTRE
Marlon DANIEL, Conductor
Léïla BREDENT, Soprano
Eric SILBERGER, Violin
Sami JUNNONEN, Flute
Megan SESMA, Harp
Luc SAINT-ELOY, Master of Ceremonies
Introduction:
SAINT-GEORGES: Sonata in E-Flat Major for Flute and Harp
Program:
SAINT-GEORGES: L'amant anonyme, Op.11 (selections)
Intermission:
SAINT-GEORGES: Rondo in D Major, Op. Posth.
MOZART: Symphony in A Major, K. 201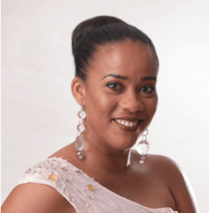 Program of the festival
SATURDAY, March 16, 2019
FESTIVAL PRELUDE: TRIBUTE TO SAINT-GEORGES
Time: 3pm
Location: Baillif (outdoor stage)
SAINT-GEORGES FESTIVAL ORCHESTRE
Marlon DANIEL, Conductor
Coretta JEAN-ALEXIS MOUEZA, Soprano
Sami JUNNONEN, Flute
Megan SESMA, Harp
members of Ensemble du Monde
SAINT-GEORGES: Sonata in E-Flat Major for Flute and Harp
SAINT-GEORGES: Two songs for Soprano and Harp
SAINT-GEORGES: String Quartet in G Minor, Op. 1, No.5
SAINT-GEORGES: Two Opera Arias
SAINT-GEORGES: Symphony in G Major, Op. 11, No. 1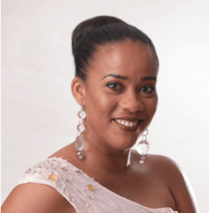 SATURDAY, March 16, 2019
OPENING CONCERT
Time: 8pm
Location: Notre-Dame-De-Guadeloupe Cathedral
SAINT-GEORGES FESTIVAL ORCHESTRE
Marlon DANIEL, Conductor
Luc SAINT-ÉLOY, Master of Ceremonies
Eric SILBERGER, Violin
Sami JUNNONEN, Flute
Jonathan GRIMBERT-BARRÉ: Suite caribéenne pour orchestre "Découverte des îles (world premiere)
SAINT-GEORGES: Violin Concerto in D Major, Op. Posth.
SAINT-GEORGES: Adagio in F Minor
JOLIVET: Flute Concerto
RAVEL: Le tombeau de Couperin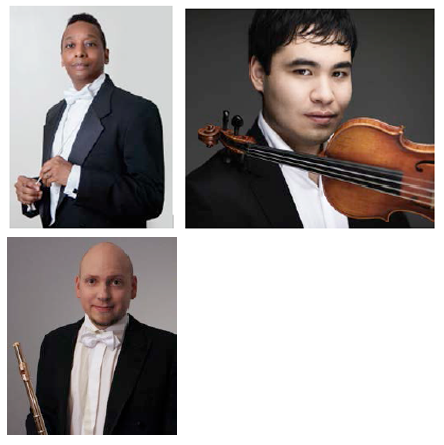 SUNDAY, March 17, 2019
ENSEMBLE DU MONDE
Time: 6pm
Location: ARTCHIPEL - NATIONAL SCENE OF GUADELOUPE
Marlon DANIEL, Conductor
Fabien THOUAND, Oboe
Eric SILBERGER, Violin
ALBINONI: Adagio in G Major
BACH: Brandenburg Concerto No. 3 in G Major, BWV 1048
BACH: Oboe Concerto in D Minor, BWV 1059
VIVALDI: The Four Seasons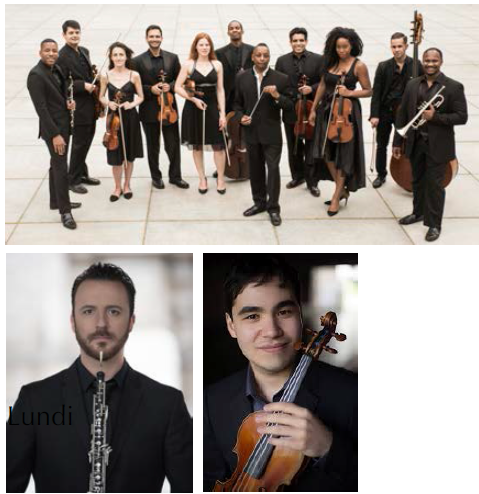 MONDAY, March 18, 2019
PIANO CONCERT I
Time: 3pm
Location: Memorial ACTe Museum
Mikael DARMANIE, Piano
COUPERIN: Les Barricades Mystérieuses
SAINT-GEORGES: Sonata in G Major
BEETHOVEN: Sonata No. 23 in F Minor Major, Op. 57 "Appassionata"
MESSIAEN: Premiére Communion de la Vierge
ELLINGTON: Two Jazz Standards
RAVEL : Mirrors (selections)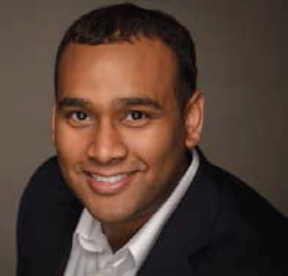 MONDAY, March 18, 2019
PIANO CONCERT II
Time: 5pm
Location: Memorial ACTe Museum
Matthieu COGNET, Piano
HAYDN: Sonata in C Major Hob XVI:50
SAINT-GEORGES: Adagio in F Minor
CHOPIN: Andante spianato et grande polonaise brilliante, Op. 22
BARTÓK: Sonata, Sz.80 (1926)
RAVEL: La valse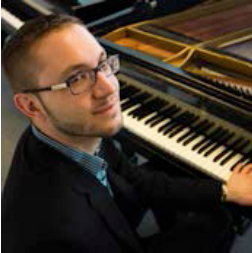 MONDAY, March 18, 2019
CHAMBER MUSIC CONCERT
Time: 8pm
Location: Memorial ACTe Museum
members of THE HARLEM CHAMBER PLAYERS and frieds
Michelle FARAH, Oboe
Amy FRASER, Bassoon
Romuald GRIMBERT-BARRÉ, Violin
Marlène PRODIGO, Violin
Tia ALLEN, Viola
Ryan MURPHY, Cello
Evan CANNON, Bass
Liz PLAYER, Clarinet
Eric DAVIS, Horn
Josh HENDERSO, Violin
Charlene BISHOP, Violin
Kenny WANG, Viola
Roberto de la MAZA MORALES, Cello
Mikael DARMANIE, Piano
SAINT-GEORGES: String Quartet in C Minor, Op.1, No.4
DEBUSSY: String Quartet in G Minor, Op.10
COLERIDGE-TAYLOR : Nonet in F Minor, Op.12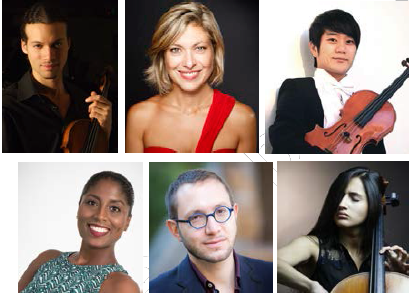 TUESDAY, March 19, 2019
A CLASSICAL SOIRÉE
Time: 5pm
Location: Karukera Lounge - ARAWAK HOTEL - Le Gosier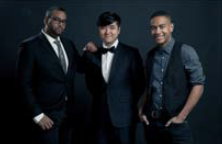 LA SIRENE ET LE CHEVALIER
Charlotta HULDT, Soprano
Megan SESMA & Friends
music of SAINT-GEORGES, MOZART and DEBUSSY
TUESDAY, March 19, 2019
A JAZZ SOIRÉE
Time: 8pm
Location: Karukera Lounge - ARAWAK HOTEL - Le Gosier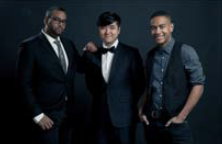 WARP TRIO
& Friends
WEDNESDAY, March 20, 2019
FESTIVAL FINALE CONCERT AND LEONTYNE PRICE OPERA TRIBUTE
Time: 8pm
Location: Saint-Pierre and Saint-Paul Cathedral
SAINT-GEORGES FESTIVAL ORCHESTRE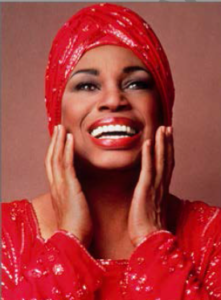 Marlon DANIEL, Conductor
Molière ATHALYS, Master of Ceremonies
Léïla BRÉDENT, Soprano
J'Nai BRIDGES, Mezzo-soprano
Darnell ISHMEL, Baritone
Janinah BURNETT, Soprano
Soloman HOWARD, Bass
Chauncey PACKER, Tenor
CHOEUR DES HOMMES DE BAILLIF