5 Romantic things to do on Valentine's Day
You are in love… Relax at Langley Resort Fort Royal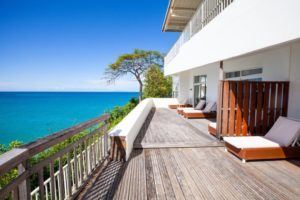 Langley Resort Fort Royal is a magical place, perfect for some private quality time with your loved one. It is located in Deshaies, near the Grande Anse beach, one of the most beautiful beaches of Guadeloupe Islands. Imagine waking up between the sea and the mountains. The rooms of this hotel offer a breathtaking view! Langley Resort Fort Royal is a three-star hotel, it gives you access to many activities : diving, biking, jet-ski…
http://www.guadeloupe-islands.com/langley-resort-fort-royal/
You are  in love… Island Hop to Les Saintes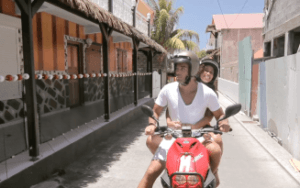 Grab a scooter and experience riding among the charming streets of the fisherman's village of Terre de Haut. Once you get to the top of the hill, you will be able to enjoy the spectacular view of Les Saintes Bay, member of the Most Beautiful Bays in the World Club. Les Saintes offers also some amazing turquoise water beaches, such as Pain de Sucre beach (Sugar Loaf beach).
And don't forget to treat yourself with a Tourment d'Amour, the lover's sweet treat. Les Saintes is definitely the perfect place for a romantic day…
You are in love… Delve into Tendacayou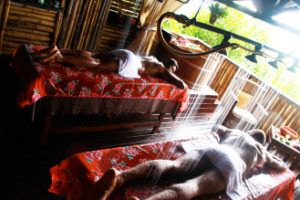 Discover this unique and mesmerizing place on  Valentine's day weekend. This eco-lodge boutique hotel & spa located in the tropical forest is also a spa, and it is a the perfect place to set a romantic mood. Enjoy an escape into Tendacayou's natural waterfall where the water flows directly into the river, continue with a "Dou Zamour" or a "Sunset" massage, and finish with admiring an amazing view of the Caribbean Sea.
You are in love… Be amazed by the Carbet Waterfalls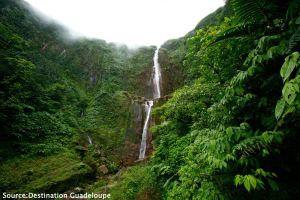 For the athletic eco-friendly couples, we suggest that you spend your Valentine's Day in our National Park and visit our majestic Carbet Falls. They are the highest waterfalls in the Lesser Antilles , at height of 803 feet. Come check out this exceptional site, and share a unique experience…
You are in love… Treat your Soul Mate with a Luxury Yacht getaway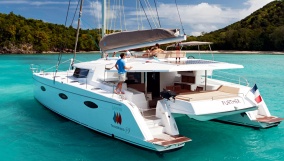 Take it to the next level and discover KARUKERA on board a luxury yacht. Imagine yourself and your "Doudou" (sweetheart in French Creole)  staring at the stars building lifetime memories…