Basse-Terre
Basse-Terre is set on a volcano range, topped by La Soufrière at the heart of dense tropical vegetation. The 17,000 hectares of rainforest that cover the mountain range form part of the National Park, which inlcudes many signposted hiking trail.
Follow one of the many waymarked hiking trails – some of which are easily accessible – and discover a rich ecosystem with an impressive number of endemic species. In this lush setting with breathtaking waterfalls, a thousand and one friendly species begging for your attention, Basse-Terre has a wealth of natural charm.
It is also bordered by pebbled and sandy beaches in shades of ochre brown, black and pink.
Are you ready for the adventure?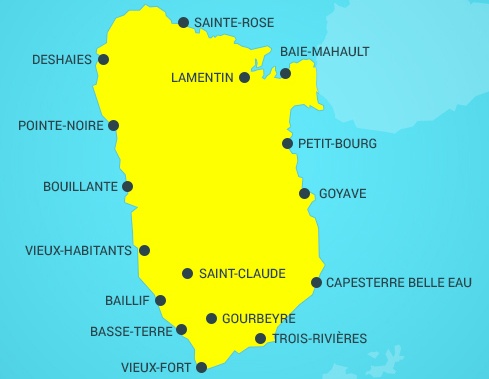 More About Basse-Terre
Habitation La Grivelière Deep inside the valley, dive...

National Park Our National Park located in Basse-Terre includes the...

The Cocoa House Located in the heart of...

Grande Anse Beach The Grand Anse beach is...

Botanical Garden Nature in all its splendor …...

Cousteau Reserve Surrounding the Pigeon Islands, the Cousteau...