Grande-Terre
From the north to the south, everything is about enchantment and exploration. At the centre of the sugar cane production, Grande-Terre offers a rich heritage.
Do you enjoy relaxing? Tranquil and delicately shaded white sand beaches await you. Grande-Terre is set on a vast limestone plateau bordered by perfect beaches, turquoise lagoons which share the coastline with amazing surfing spots and unforgettable landscapes.  This plateau is ideally suited to sugar cane plantations, which cover most of the island. It has many restaurants and hotels hat line the Riviera bear witness to the Art of French-Creole Cuisine and is famous for its warm Caribbean nights.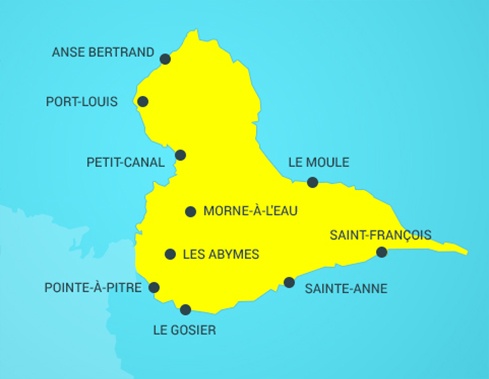 More About Grande-Terre
Sainte-Anne Colourful Market The daily colourful market of Sainte...

Saint-François La Pointe des Chateaux La Pointe des Châteaux...

Pointe-à-Pitre The New Orleans of the Caribbean Located in...

Moule Le Moule, facing north east on the...

Morne à l'Eau Cemeteries For All Saints Day, make...

Le Gosier Night Market Overlooking the sea, the Gosier...
Sorry, the comment form is closed at this time.